Progress update in 2020
Platform 2.1 has seen some progress in 2020, although the impact of COVID-19 on this mainly experimental platform has been significant.
We have worked with Prof. Ron Steer to investigate an unusual sulfide (S2) singlet fission process in a multichromophoric azulene compound, calix[4]azulene. Excitation to the lowest-energy excited singlet state results in the molecule behaving as if it consisted of four independently operating azulene chromophores; no significant intramolecular excitonic interaction is observed. Excitation of this calixarene to its second excited singlet state results in ultrafast relaxation to the ground state. No "anti-Kasha" fluorescence is observed, thus mimicking the known behaviour of non-covalently bound azulene dimers. The possible photophysical S2 relaxation routes were examined, and no evidence of triplet intermediates was found. This eliminated several potential S2 decay routes, including conventional singlet fission. A unique S2 decay route of this calixarene was proposed to explain the dynamics of this molecule: singlet to product singlet excitonic fission.
We have continued to work toward the development of materials with properties tuned for efficient singlet fission, namely rapid triplet generation and long lifetimes. We demonstrate that both triplet formation and decay rates are highly sensitive to the ordering of the molecules within a film of PDI (which have SF yields varying from 35 to 200%). The results of this work will assist in the design of optimized structures with a fast SF rate and low recombination rate that are required for useful light harvesting applications.
A number of new SF materials have been investigated from a spin perspective. Heterodimers of pentacene and tetracene have been shown to produce somewhat polarised triplet ensembles, the nature of which can be controlled by varying the direction of an external magnetic field with respect to the molecule. Dimers containing anthracene bridges have shown interesting effects that are qualitatively different to earlier work on benzene-based bridges.
Theoretical work between UNSW and RMIT has picked up pace, with a new UNSW PhD student Miles Collins undertaking an intensive period of work at RMIT (in a virtual way) in the first three months of the year. This work aimed to use approaches from quantum information (particularly around modelling of exchange noise in spin-based quantum bits) to assist with understanding the role that exchange variation plays in the generation of triplet and quintet states in singlet fission. Interestingly, the work of Collins on singlet fission in organic materials is beginning to be cited in inorganic quantum information papers, which may result in collaborative opportunities. Of note, Collins is one of two new PhD students being financially supported by the Sydney Quantum Academy, the other being Adrian Mena who is working on OLED magnetic field sensors which exploit coherent spin effects analogous to nitrogen vacancy (NV) Centres in diamond.
We have continued to develop several new approaches toward dynamic control of the coupling of excitonic systems. Initial work with azobenzene photo switches results in the identification of several challenges, in part related to the gross structural changes that these switches required. We have developed a number of new approaches and are actively pursuing a conjugation switch based on DTE, which has the benefit of very little structural change during the switching process, but large changes in conjugation. This is an important development, as a switch of this nature will enable us to experimentally test a number of ideas that have emerged from modelling of the role that exchange plays in singlet fission, and to do so in a system which can be dynamically controlled.
The collaboration between RMIT and UoM on energy transfer in Bilirubin analogues is progressing well. This year we published a spectroscopic and computational study of Bilirubin and several analogues which were synthesised to study the role of the bridge and molecular geometry. We have performed preliminary transient spectroscopy on these molecules, which will be combined with dynamical simulations to study the way in which energy moves within the molecule in a future publication. This work has shown how the coupling between chromophores (two halves of bilirubin) can be studied and controlled through synthetic manipulation of the bridge conjugation and side groups, and required input of expertise in synthesis (Wong), spectroscopy (Smith) and theory (Cole, Russo).
Following from these ideas, work toward a model exciton logic element has also progressed. Combining experimental outcomes from our work on dimers with ideas that emerged during our consideration of switches has helped to progress a design for an excitonic AND gate based on a combination of SF and TTA, and more futuristic ideas around the use of SF for providing the energy to enable longer logical structures are becoming firmer.
The more applied side of this platform is also making good progress. New devices for coherently controlling exciton spins have been developed (see figure below) which are compatible with nanoscale OLED fabrication and fabrication of arrays of OLEDs for sensing applications.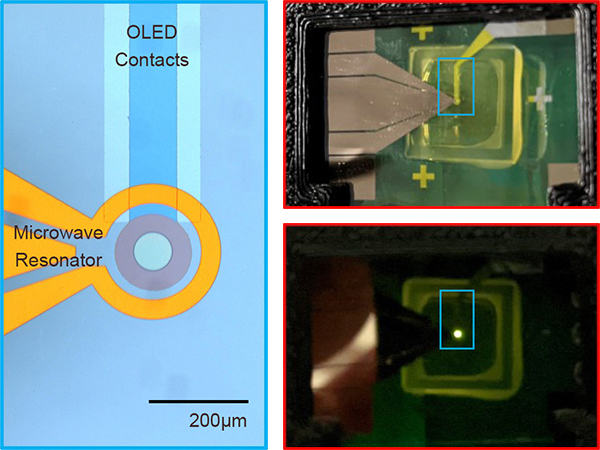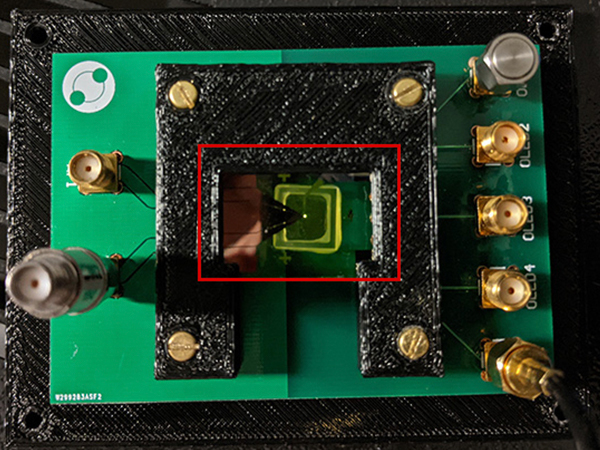 Work also continues toward the characterisation of disorder of quantum properties in organic optoelectronic materials, and investigation of the impact that this disorder will have on a wide range of devices which aim to use spin as a resource.
Finally, we have completed an analysis of finite pulse effects for heterodyne and fluorescence detected 2D ultra-fast spectroscopy which is currently under review with JCP. In this work we used computationally intensive (but exact) non-perturbative time evolution to simulate the signal from a proto-typical dimer system. We were able to demonstrate the "sweet spot" in terms of pulse power which maximised the strength of the 3rd order signal, while avoiding artefacts from both the linear and higher order terms. We compare the results between detection methods and contrasted these with what one would expect from the usual diagrammatic approach that is common in the literature.